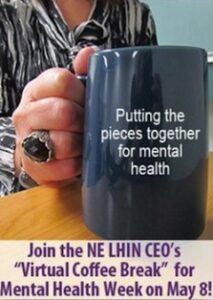 Join us for a Coffee Break on Tuesday Morning, May 8 for Mental Health Week!
Please note the passcode has changed.
In a virtual coffee break Panel Discussion, hosted live by CEO Louise Paquette, the North East Local Health Integration Network (LHIN) will mark Mental Health Week 2012 (May 7 – 11) with updates on regional service and access improvements for Northerners.
Anyone can join by teleconference "coffee break" starting at 10:30 a.m.
Northeastern Ontario panelists will provide updates on mental health improvements across the region aimed at reducing the fragmentation of services and improving access to care at the right time and place.

Tuesday, May 8
10:30-11:00 a.m.
1-866-696-5894, passcode 3579575

Questions can also be submitted  for panel members in advance at: engagingwithyou@lhins.on.ca.
Talk to you on May 8!
Click here to learn more.