With the July 1st holiday upon us, the Huron Shores Fire Department wishes Everyone to have a Safe and Happy Long Weekend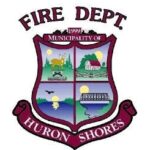 Here are a few fire safety tips to remember:   When we leave the city to relax at a waterfront retreat, it's important to remember that we must still take responsibility for our families' safety. Especially in remote locations, it's essential that every property owner take steps to prepare, inside and out, for a fire emergency, such as:
Outside: don't stack woodpiles against cottage walls! Keep all flammable materials at least 10 metres away from buildings.
Inside: install smoke alarms on every storey and outside all bedrooms; it's the law. Never tamper with smoke or CO alarms, and make sure the batteries are working this weekend. Note:  the Fire Department will perform free in-home smoke alarm checks on July 18 and 25th, between 7:00 p.m. and 9:00 p.m. Watch for details.
Campfire safety: always check for municipal fire bans, and never burn in a Restricted Fire Zone or when it is windy. Click here for links to fire condition updates.
Read the message below to participate in the "Peace of Mind for Your Piece of Heaven" campaign and a reminder about how you could win in the "Safe at the Cottage" Facebook contest.
—————————————-
ORIGINAL MESSAGE:  Posted May 18, 2012
Dry spring weather and memories of last year's busy wildfire season means "extra vigilance" needed for 2012 in cottage country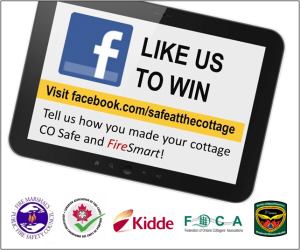 May 16, 2012, Toronto – Drier than normal weather plus vivid memories of Ontario's many large fires and evacuations in 2011, has a number of cottage and fire safety organizations working together to make fire prevention and preparedness a top priority for anyone who owns or rents a woodland property this season.
In its sixth successful year, the "Peace of Mind for Your Piece of Heaven" cottage fire and carbon monoxide (CO) safety awareness campaign is bigger than ever, highlighted in 2012 by a new contest on Facebook.
"We're asking cottagers to be extra vigilant and take precautions to prevent cottage fires and carbon monoxide tragedies this season," says Ted Wieclawek, Chair of the Fire Marshal's Public Fire Safety Council (FMPFSC).  "Being properly equipped with working smoke alarms and CO alarms can provide those precious seconds to escape in an emergency."
The FMPFSC, the Federation of Ontario Cottagers' Associations (FOCA), The Ministry of Natural Resources, Aviation, Forest Fire and Emergency Services branch, Kidde Fire and CO Alarms, local fire departments and nearly 100 individual cottage and lake associations have collaborated on this year's effort.
The new 'Safe at the Cottage' Contest will reward cottage owners in Ontario who best demonstrate the spirit of fire and carbon monoxide safety.  Cottagers are invited to share photos or stories about how they made their property 'CO Safe' or 'FireSmart' indoors or outdoors on the campaign Facebook page at www.facebook.com/safeatthecottage.  Prizes up for grabs include FireSmart Safety Toolkits from the Ministry of Natural Resources, Kidde Smoke Alarms, Carbon Monoxide Alarms and Escape Ladders, Xplornet Internet 4G rural internet & 32 GB Tablet with Wi-Fi, and, subscriptions to Cottage Life magazine. Full details can be found on Facebook site.  Winners will be selected by a judging panel from participating partners.  The contest runs from Thursday, May 17 to August 31, 2012.