The Municipality has successfully entered into an Agreement with Municipal Waste and Recycling Consultants (MWRC) to accept additional items at the 4 Municipal Recycling Depots:
Accepted Items:
All rigid plastic containers signed #1 through #6
Please remove all plastic caps and lids; empty, rinse, and place items in the bin.
Milk and juice cartons and juice boxes
Please remove plastic caps, straws and dispose in the garbage; empty and flatten cartons and juice boxes and place in recycling bin.
NOT ACCEPTED:  Styrofoam, plastic bags, motor oil containers or pails.
Please ensure all items are rinsed and free of food residue.
Recycling depots locations:
Ward 1: 34 Little Rapids Rd. (Ball Park), Little Rapids
Ward 2:  Waste Disposal Site, 473 Cullis Rd. (accessible during regular operating hours)
Ward 3:  Iron Bridge (between Village General Store and Arena)
Ward 4:  Waste Disposal Site, 1035 Dean Lake Rd. (accessible during regular operating hours)
PLEASE do not leave your items outside the bins; if the bins are full, take your items home and return with them another day.  Items left outside the bins do not get picked up by the recycling contractor.
Reminder:  Household Hazardous Waste Day is July 21st.  Click here for details!
Electronic Waste (E-Waste) Disposal Now Available at Wards 1 & 3 Waste Sites: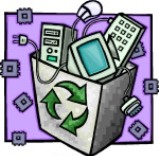 As reported previously, ratepayers of Huron Shores are advised that the Municipality has successfully registered the Ward 1 (Thessalon Township, 200 Hwy. 129) and Ward 3 (Iron Bridge, 41 Red Rock Rd.) Waste Sites under the Ontario Electronic Stewardship (OES) Program for the collection of end-of-life electronic waste i.e. TV's, computer components, stereo equipment, etc. (Click here to view a 1-page, printable list of accepted items, OR visit the OES website for more details) The approved collection bins are in place at the waste sites, ratepayers may now bring their E-Waste, at no charge, to these sites during regular operating hours.  The Municipality reminds you that it is the owner's responsibility to ensure that all sensitive/personal information is removed from computers, cellphones, and PDAs prior to recycling these particular items.  For more information regarding E-Waste recycling please visit the website:  recycleyourelectronics.ca
For additional information regarding tipping fees and Waste Site hours of operation, please click here to visit the Waste Disposal & Recycling Program page of this site.