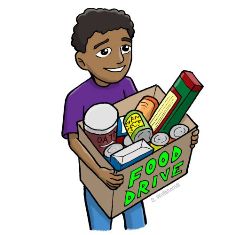 The Municipality of Huron Shores would like to thank all those who donated non-perishable food items and monetary donations that contributed to a very successful food drive.  Donated items were collected Saturday, July 28th from all along the North Shore and delivered to the Elliot Lake Food Bank that same day.
The Municipality would particularly like to thank the communities that actively participated in the drive, the media outlets, both radio and print, that provided free promotion for the initiative; and Pierre and Kerry Lee Cinq-Mars of Cinq-Mars Trucking for their generosity and compassion.
Thank you for supporting our neighbour municipality, the City of Elliot Lake.  Monetary donations are still being accepted, please click here to view an earlier post.