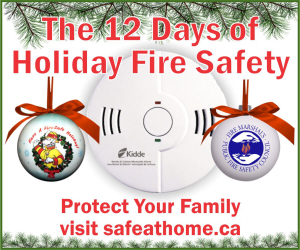 The Huron Shores Fire Department has once again partnered with 94.1 Moose FM to present the  Ontario Fire Marshal's Public Fire Safety Council campaign:  "The 12 Days of Holiday Fire Safety Contest".
Beginning Monday, December 10th, tune in to Bob Alexander's morning show to listen to an interview with Huron Shores Fire Chief Gib Medve and hear the First Fire Safety Tip.  The first person to call the Toll Free number, and successfully repeat the Safety Tip of the Day wins 1 of 12 Prize Packages consisting of:  a ULC-Approved 'Sparky' Glow in the Dark Smoke Alarm, a ULC-approved combination CO/Smoke Alarm, and a Limited Edition 'Sparky' Holiday Ornament.  A new tip will be announced each day.  Prizes are provided by the Fire Marshal's Public Fire Safety Council.  Please tune in to the radio station or visit the Moose FM 94.1 website (http://www.moosefm.com/cknr/contests) on the 10th for contest details.
For additional household fire safety information visit the website:  www.safeathome.ca. Safeathome.ca is a tips and information website developed to help protect Canadians from the dangers of fire and carbon monoxide (CO) poisoning.
Safeathome.ca is utilized in grass-roots fire and carbon monoxide safety outreaches led by safety focused organizations such as the Canadian Association of Fire Chiefs, the Fire Marshal's Public Fire Safety Council and Kidde Canada.
The Fire Department would remind everyone to develop a Home Fire Safety Plan and to have "Two Ways Out!"
The Municipality of Huron Shores Fire Department, Council and Staff  wishes everyone a Safe, Merry Christmas and a Happy Holiday Season.