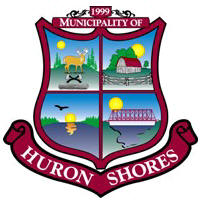 Veterans Bridge is once again open to pedestrian traffic having been closed temporarily since late November in order for the decking to be replaced.  All construction work is now complete.  The Municipality urges all pedestrian/bicycle traffic to utilize the Veterans Bridge in order to cross the river as refurbishment work continues on the Highway 17 Bridge and its pedestrian sidewalk remains closed.
ORIGINAL NOTICE (posted November 30/12):
If you've been travelling through Iron Bridge recently you will have noticed a great deal of construction activity at both the Highway 17 Bridge and the recently dedicated Veterans Bridge, both spanning the Mississagi River.   The Highway 17 Bridge Refurbishment Project, having begun this fall, and due to unforeseen delays, work is just now starting on the westbound lane resulting in the temporary closure of the pedestrian sidewalk.
Work began by CanTech Construction Ltd. on Monday, November 26th to replace the decking on the Veterans Bridge (at Tally Ho Park) and is expected to be completed within the next 10 days.  It is unfortunate that both bridge crossings are closed to pedestrian traffic simultaneously.  Public Works has advised that if you have safety concerns with regard to pedestrian/bicycle traffic across the river, please contact the Municipal Office during regular office hours (Monday-Friday, 8:30 a.m.-4:30 p.m. 705-843-2033) and assistance will be provided to the best of our ability.  If assistance is required on the weekend, please call during the week for arrangements to be made.