The following information was received from Emergency Management Ontario:
Emergency Preparedness (EP) Week (May 5-11) is a Canada-wide initiative to increase awareness of individual and family preparedness.
Ontario's campaign focus this year is on ensuring seniors and older adults are getting the message about being prepared. While they have the ability to help themselves and others, seniors can be more vulnerable during emergencies. We have therefore developed resources to help them and their families ensure they are well prepared.
The people of Ontario have faced all kinds of emergencies, from ice storms and power outages to tornadoes and industrial accidents. We will face more in the future.
Emergencies can strike at any time so being prepared is critical since it can take time for help to arrive.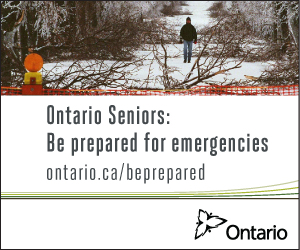 That's why everyone should have an emergency plan and kit to take care of themselves for at least three days.
Your emergency plan should reflect your personal circumstances and unique needs.  To learn how to develop an Emergency Plan, assemble an Emergency Kit, and other helpful resources, please visit the Emergency Management Ontario website.  Materials may be downloaded, ordered on-line or by calling 1-877-314-3723.  All materials are available free of charge.  Limited copies of some resources are also available at the Municipal Office and the Huron Shores Public Library.
Please click on the links below to download PDF copies of the following Emergency Planning materials: