Recently the Huron Shores Fire Department members hosted a Wine and Cheese Evening at the Historic Cordukes/Weber 12-Sided Barn in Sowerby to honour Fire Chief Gib Medve receiving the Fire Services Exemplary Service Medal for his twenty years of volunteer service with the Fire Department.
Fire Chief Medve first joined the former Thessalon Township Fire Department in 1992, rising to the rank of Deputy Fire Chief.  Following the municipal amalgamation of the Townships of Thessalon, Day and Bright Additional, Thompson and the Village of Iron Bridge in 1999 he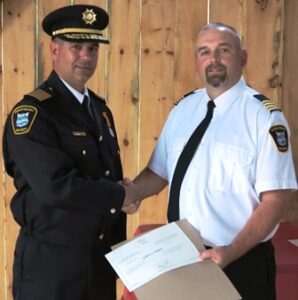 continued to serve as Deputy Fire Chief for the Huron Shores Fire Department Station 1 (Little Rapids). He was appointed Acting Fire Chief  in 2005,  following the retirement of long-serving Fire Chief Brad Eagleson. Fire Department members confirmed his mandate in the departmental elections and Council appointed him Fire Chief for the Municipality of Huron Shores in 2006.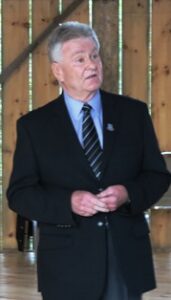 At the Medal Presentation, Mayor Reeves stated the following:  "I have worked on various projects  with Huron Shores Fire Chief Gib Medve over the years.  From this experience I know that, as Chief, he has the safety and well-being of the residents of Huron Shores, those passing through the Municipality, and of course our volunteer firefighters, foremost in mind in his work for the department.  Gib is a strong advocate for the Huron Shores Fire Department and a respected leader in our community."
 In addition to Fire Chief Medve, the Municipality now has six 20+ year volunteer service members in the fire services: Honorary Lifetime Members Ray Leighton, Brad Eagleson, Murray Cochrane, Pete Seabrook, Roger Mulligan and current member Joe Goodmurphy.  Council, municipal staff, and fire department personnel applaud Fire Chief Medve and all the long-serving members for their achievement.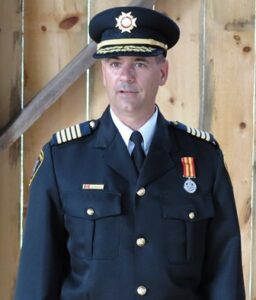 (All photos provided courtesy of Roger Mulligan.)