Recently, Council and staff hosted a retirement party for Public Works Superintendent Tom Dumont and his family at the Thessalon Township Community Centre in Little Rapids.  All in attendance enjoyed the delicious roast beef buffet dinner catered by Mark and Wendy Petingalo, the fabulous cake (a replica of the Municipal Office) was provided by Mrs. Ruth Harper of Iron Bridge.
Originally from the Nobel area, Tom worked in the mining industry in both Sudbury and Elliot Lake prior to being hired as the Public Works Superintendent for Thessalon Township in 1993.  Following the 1999 amalgamation of the Townships of Thessalon, Day and Bright Additional, Thompson and the Village of Iron Bridge into the Municipality of Huron Shores, he became Public Works Superintendent for the new Municipality.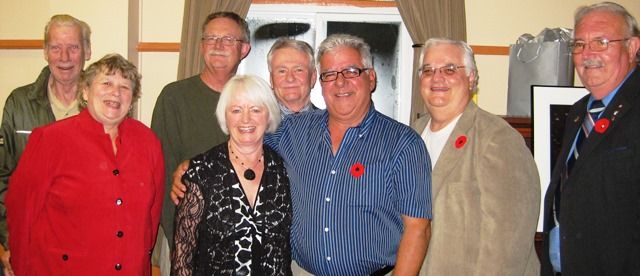 Pictured:  Tom with current and former council members – Fred and Eloise (Boe) Eldner, Gord Campbell, Mayor Gil Reeves, Georges Bilodeau & Ted Linley; with Tom is Former Thessalon Township Reeve Norma Cochrane.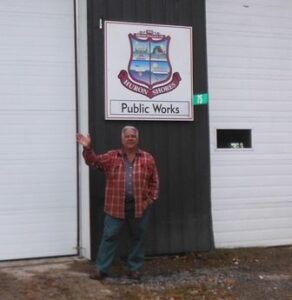 Mayor Reeves, in his speech, listed the six things he's learned about Tom:
1.  Tom is approachable.  He made himself available to the public, municipal staff and council.    I Thank you for that.
2.  Tom is honest.  Over the years he has told me a ton of stuff I didn't want to hear.
3.  Tom takes a straight up approach to problems and successes.  He is able to maintain his big, disarming smile through both.
4.  Tom  is knowledgeable and shares that knowledge, while remaining open to the suggestions and ideas of those around him.  In Tom's world who gets the credit doesn't matter.  The outcome does.
5.  Tom has built an excellent professional network from which Huron Shores will continue to benefit.  This was demonstrated by the number of contractors who jumped in and helped us without hesitation during the Sept 10 flood event.  This is a reflection of the years of good will Tom has built for us.
6.  And most importantly Tom puts people first.  I have come to respect him as a professional in his field, and as a man.
Mayor Reeves also noted that Tom is an admirer of our local geology when he presented him with Council's gift of bookends carved from Gordon Lake stone.  The staff gift was a painting of bald eagles on the same Gordon Lake stone.
Council and staff appreciate the fact that Tom has agreed to work for a few weeks following his official retirement in order to assist the new Public Works Superintendent, Harry Hadikin, become familiarized with the Municipality, the Public Works Department projects/personnel and local contractors.
Tom and his wife Marlene have plans to travel this winter and to spend more time with their daughters and their families.  Council and staff wish Tom and his family all the best on his retirement.  Congratulations Tom!