The Iron Bridge Lions Club Community Days and Family Baseball Tournament begins Friday, August 8th at the Ball Park (2 Northern Ave.)  and the Lions Club Hall (10 Clarissa St.) at 5:30 p.m. and continues through until Sunday, August 10th.  The schedule of events is as follows:
Friday:   Ball Games begin 5:30 p.m.; Snack Bar & Bar Open, Easy In – Easy Out Horseshoes at the Hall, 6:30 p.m., admittance $2.00;
Saturday:  Ball games at the park, 8:00 a.m.; 7:30 – 10:00 a.m.

Pancake Breakfast  Adults $9, Children 10 & under $7;  Horseshoe Tournament (Men 9:30 a.m., Ladies 1:00 p.m.);

Sunday:  Ball Tournament continues, 8:00 a.m., Mixed Doubles Horseshoes at the Hall, 12 Noon.
Chillin' Out in Huron Shores:  After taking in a ball game, visit the Iron Bridge Historical Museum to explore its new exhibit:  Ice Ages:  Chillin' Out in Huron Shores to learn about the Ice Ages in Huron Shores over the past 2.3 billion years.  The Exhibit runs from Sunday,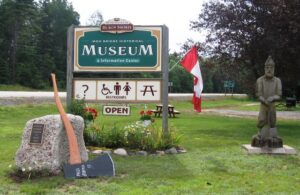 August 10th to Saturday, August 16th and features the following:
Informative posters;
Interactive experiments for everyone to try;
A self-guided tour to discover the ice age evidence throughout Huron Shores.
The Museum is open daily from 9:00 a.m. to 7:00 p.m. and is located at 1 James Street, just off Highway 17, at the eastern end of Iron Bridge.