The following information was received by the Municipality: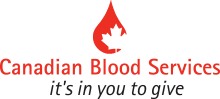 Canadian Blood Services will be holding a Blood Donor Clinic on Thursday, February 12th, 2015, from 4:00-7:00 p.m. at the Blind River Community Centre.
Did you know:
• It takes roughly 1 hour for the whole process to donate.
• To actually donate blood, takes anywhere from 7 to 11 minutes.
• The human body has 10 to 12 units of blood inside it, when you donate we just take 1 unit.
• It's not common to feel sick or feel faint when donating. It's common to feel special and rare. Only 1% of our donors had a reaction last year
• 96% of eligible Canadians do not donate blood. Less than 4% of eligible Canadians donate. We need help!
• Please eat before coming in, and drink plenty of water.
• Bring Photo ID.
• 4 years straight Blind River missed its collection target of 72 units.
• We broke that trend in the fall but still can't achieve 72 units again.
• It takes up to 50 units to save a car accident victim,  so we need your help.
• We can pick up your group with our life bus.
• Yes, we do take walk-ins!
• Lots of people think they are not eligible to donate, chances are, they might be. You can always find out by calling, 1-888-2-DONATE. (1-888-236-6283) or visit www.blood.ca.  Book an appointment, save a life!