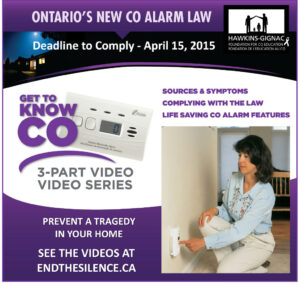 The Municipality received the following message from the Hawkins-Gignac Foundation with respect to Ontario's new Carbon Monoxide Law:
"The Hawkins-Gignac Foundation for CO Education is pleased to provide an update for your constituents on Ontario's landmark carbon monoxide law – The Hawkins-Gignac Act.  As of April 15, 2015, all Ontario homes at risk of carbon monoxide (CO) exposure must have CO alarms installed near sleeping areas, or risk penalties. We have prepared materials from the unique vantage point of one of Canada's worst carbon monoxide related tragedies, in which CO claimed the lives of a family of four from Woodstock, ON and was the impetus for the creation of the Hawkins-Gignac Foundation for CO Education.  This new law makes carbon monoxide alarms mandatory in all Ontario homes with fuel-burning appliances or attached garages, no matter the age of the home. Referencing our information on your web or social media sites will be useful to help convey details about this new law and the April 15 enforcement date.  The focal point of the package is our 'Get to Know CO' three part video series that covers 'Complying with Ontario's New CO Alarm Law', 'Sources and Symptoms of CO', and how to 'Protect your Family with CO Alarms'.
An updated CO Alarm Law Homeowner Guide (PDF) may be found at the following link:  http://www.endthesilence.ca/stay-safe/ontarios-new-co-alarm-law.  The Hawkins-Gignac Foundation for CO Education, a charitable organization, was established to ensure the Hawkins family – Laurie, Richard, Cassandra and Jordan – who died from CO poisoning in Woodstock in 2008, did not perish in vain.  Our mission continues in Ontario by encouraging citizens to comply and to educate all Canadians about the dangers of CO and how to properly protect families."
Please visit the Huron Shores Fire Department page for additional information and resources with respect to Fire Safety and Carbon Monoxide Alarms.