In 2015, the Thessalon Township Recreation Committee decided a new name was in order for the Committee.  The Committee is appointed by the Council of the Municipality of Huron Shores and recommends recreational programming for residents of Ward 1.
To come up with a new name, the Committee sponsored a contest, open to residents of Ward 1, to re-name the Committee and highlight the Committee's goals.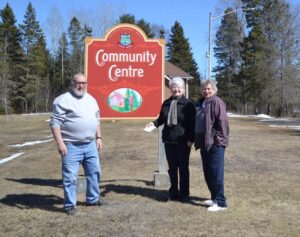 The winning entry was the Little Rapids Recreation Complex Committee. Shown here are from left:  Blair MacKinnon, Councillor, Ward 1; Laura Miller, contest winner; and, Boe Eldner, Committee Member.  The photo is taken at the Little Rapids Community Centre.  As the contest winner, Mrs. Miller received a $50 gift certificate for The Little Rapids General Store.
One of the Committee's dreams is to see the creation of a complex comprised of the Community Centre, ballpark, gazebo, outdoor rink and natural fitness trail.  This won't happen overnight; however, everyone needs a dream. The new name reflects the dream.
To raise funds for the project, the Committee has sponsored an ATV Run from Little Rapids to Tunnel Lake and back.  This will be the 5th year for the ATV Run and it will be held on Saturday, May 28th, 2016.  Registration includes meals for the day.