Midway Bridge is now open to vehicular traffic after having been closed since mid-June for replacement.  Please see the original notice below posted on June 10th, 2016 for further details.
Original Notice:  June 10, 2016:  Midway Bridge Closure Summer of 2016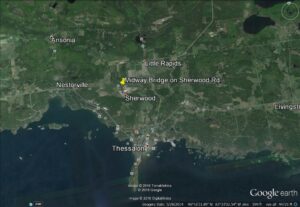 Midway Bridge on Sherwood Road located in Huron Shores (the former Thessalon Township) is scheduled for replacement this summer.  Preparation for construction will be starting, the week of June 13th and the crossing will be closed to all traffic once the Contractor's equipment is moved on-site. (For location, see Google Map attached to this notice.)
Please plan your routes accordingly to avoid the necessity of utilizing this crossing, as it will be closed for the duration of the construction period, until the targeted completion date for the end of September 2016.
As the Municipality works toward improving and ensuring safe infrastructure for travel, we thank you for your patience and understanding for any inconvenience that may be experienced during this construction.
Please monitor huronshores.ca for any updates regarding the Midway Bridge Replacement Construction Project.