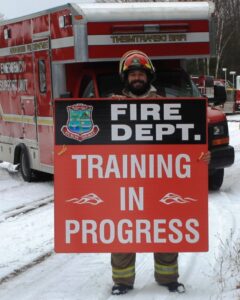 Recently, the Huron Shores Fire Department  held its Joint Fall Training exercises in Sowerby.  In order to accommodate the training, a portion of Hendry Street was closed to thru traffic for the day.  The main focus of this full day of training was to practice Auto Extrication techniques.  The morning began with theory but the majority of the session was spent in practical, hands-on training.
The Fire Department would like to thank the following for their assistance, without whom  this valuable training would not have been possible:
TransCan Service Centre Ltd., Blind River;
Pine Ridge Automotive, Huron Shores; and
the Bruce Mines Fire Department.
Later that evening, a medal ceremony was held in order to present four personnel with their 20-Year Service Awards:  Deputy Chief Jim Kent and Fire Fighter Steve Whitfield, Station 1 Little Rapids; Fire Fighters Graham Alexander and Dave Membury, Station 2 Iron Bridge.  The medals and certificates were presented by Fire Chief Gib Medve, Deputy Chief Kent and Deputy Chief Station 2 Scott Richards.  Fire Chief Gib Medve will retire effective January 1st, 2017, and Deputy Chief Jim Kent will then assume the rank and responsibilities of Fire Chief.  Captain Jordan Medve will step into the role of Deputy Chief, Station 1.
In addition to the four honourees, the Municipality  has seven 20+ year volunteer service members in the fire department: Honorary Lifetime Members Ray Leighton, Brad Eagleson, Murray Cochrane, Pete Seabrook, Roger Mulligan;  current Fire Chief Gib Medve and Fire Fighter Joe Goodmurphy.  Council and municipal staff applaud all the long-serving members for their achievement; and the newer members for their continued commitment to their community.
The following is a photo gallery of the training activities and the medal ceremony:
This slideshow requires JavaScript.