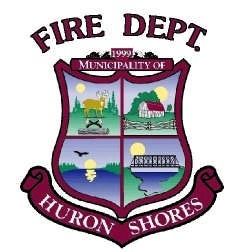 Every year the Huron Shores Fire Department (HSFD) responds to calls for chimney fires.  Sometimes the consequences are relatively minor, while others result in a family left homeless. A house can be replaced; however family mementos, or worse, a family member or pet, cannot.
Chimney fires are preventable! They are usually the result of creosote buildup within the chimney caused by condensation of incompletely combusted by-products of the fire.  Whether your house is heated by wood, or your family enjoys the comfort of a crackling fire in your fireplace, ensure you take the following steps to maintain your wood burning appliance:
Do not burn cardboard, large amounts of paper, or use your stove as an incinerator.

In mild weather, burn smaller, hotter fires and consult your owner's manual for tips to prevent further creosote buildup.

Burn only "seasoned" wood (cut, piled, covered and allowed to dry).

Clean the chimney regularly (monthly, if wood heat is the primary source of heat for your home.)
Current weather forecasts indicate colder temperatures after our recent mild spell, resulting in your woodstove burning hotter to heat your residence. The HSFD urges you to regularly inspect and clean your chimney to avoid the potential tragedy of a chimney fire.