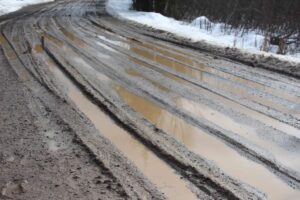 Public Works has advised that a portion of Lakeview Drive, located in Ward 4, former Thompson Township, has been temporarily limited to local traffic only due to extremely soft road conditions caused from a combination of recent reconstruction and unseasonably mild weather.  The traveling public is urged to please exercise caution when driving on our municipal roads at this time.  Public Works continues to monitor and patrol the roads for potential hazards.  Please watch for temporary signage advising of problem areas as well as Public Works personnel and equipment at work.
In recent years changing weather patterns have led to more fall and spring snow events requiring snow removal on our municipal roads.
As a result snow removal operations must be undertaken when frost is not yet present (fall), or is coming out of our roadbeds (spring, or the current mid-season thaw). When frost and snow conditions do not provide a stable road surface to plow, snow removal equipment operators face unique challenges in effectively plowing our hard-surfaced and gravel roads without damaging them. This is particularly so when plowing in darkness because road contours are more difficult to see.
Please exercise extra caution when driving on municipal roads during and after spring and fall snow events.  Council and staff appreciate your patience and understanding during these unprecedented weather changes our area has been experiencing.