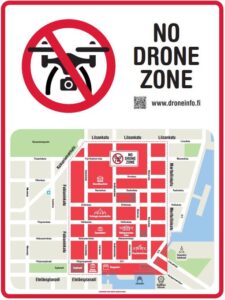 Drones or Unmanned Aerial Vehicles (UAVs) are becoming increasingly popular for both commercial and industrial uses, but recreational flying is still the primary use for these devices. The Huron Shores Fire Department (HSFD) would like to remind all those who operate UAVs that, under new federal legislation, it is illegal to fly a drone within 9 kms of a forest fire. If an individual is caught doing so, he/she could be subject to a fine of up to $3000.00.  For details, please visit the "Flying Your Drone Safely and Legally" page on the Transport Canada website.
The more important aspect of this practice is that these drones create a danger for water bombers and accompanying spotter aircraft that are required to help bring a blaze under control. If UAVs are detected, Ministry of Natural Resources and Forestry (MNRF) policy is to abort air attacks until the UAV is out of the area or has landed. In the interim, valuable time could be lost in trying to control, or extinguish a forest fire.  Substantially more damage could occur to landholders' property, cottages and forests. The longer the initial attack is delayed, the greater the risk of the blaze getting out of control.
Please keep this in mind if you see or hear about a forest fire in your area, and would like to fly  a drone to obtain video of the fire. The HSFD appreciates your cooperation in this matter and thanks you.
To Report a Forest Fire Call 310-FIRE (3473) or to find more forest fire information visit the MNRF Forest Fire page.