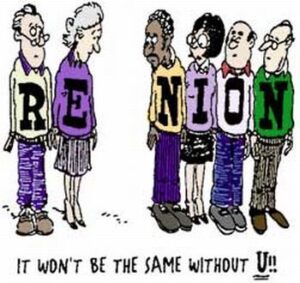 The Iron Bridge Recreation Committee and the Iron Bridge Agricultural Society are co-hosting the Iron Bridge Public School Reunion on Saturday, July 29th, 2017 at the Iron Bridge Recreation Centre (1 Chiblow Lake Rd.).  All alumni and non-alumni are welcome.  Join us in a celebration of the former school and reconnect with classmates, teachers, staff and friends.  The day includes the following:
A Come and Go Tea from 3:00 to 5:00 p.m., admission by donation.  During the tea a ceremony will be held to unveil the recently refurbished bell from the Iron Bridge Public School.  The former school bell will be installed in the autumn at the Huron Shores Public Library housed in a special feature of the roof over a new handicapped accessible ramp at the east side of the building.
Cocktail Hour from 5:00 to 6:00 p.m., cash bar.
Roast Beef Dinner from 6:00 to 8:00 p.m., $15/person
Reunion Dance from 8:00 p.m. to 1:00 a.m., $10/person
Tickets are available for purchase from the Sun Ray Café/Shell Gas Station; the Village General Store/Esso, and MacDonald's Food Market.  You can also order tickets by contacting:  jane_armstrong_52@hotmail.com (705-843-0425) or ange.bay57@gmail.com (705-541-5757).
A little history about the Iron Bridge Public School bell:
The iron bell, that sat prominently on the property of Iron Bridge Public School since 1954 was donated to the Municipality of Huron Shores by the Algoma District School Board (ADSB) following the closure of the community school.
The Iron Bridge Public School building, that stands now in the community, was built in 1954 and was constructed with the most modern amenities consistent with the time.  The bell has been a feature of the community as the school grew into the present day building.
The original school (S.S. No. One Gladstone) that served students in the Iron Bridge area was a two-room log building that was constructed in 1884.  As the population grew in the area, the log school was replaced – though it was still a two-room school – with a frame building built by James Forrest in 1906.
In that same year, teacher Miss Annie Morrison, and the students of S.S. No. One Gladstone, staged a series of concerts to raise funds to acquire a bell for their school.  They succeeded and the bell was installed.  It was this bell that W.C. Eaket moved from the small wooden school just west of Iron Bridge to the newly-constructed Iron Bridge Public School in 1954.
Huron Shores' Mayor Gil Reeves commented on the historical significance of the bell and how pleased he is that it will find a new home within the community of Iron Bridge. "The Iron Bridge Public School bell has been an icon in our community for over a century.   On behalf of the Municipality of Huron Shores, and the community of Iron Bridge, I thank the Algoma District School Board for deciding that the bell will remain with us, where it will be seen and appreciated by many former area students."  (Information provided by the Algoma District School Board)
This slideshow requires JavaScript.