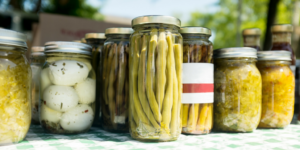 Have you ever dreamt of owning your own food business? Do you already have a food product that you would like to scale up? Learn from industry experts John Hale of Hale Foods, Winnie Chiu, Food Scientist at George Brown College, OMAFRA, and CFIA about the necessary steps to take your product from the farm or kitchen and getting it to store shelves.
Confirmed Sessions
R&D Case Study & Budget Planning (with Winnie Chiu) – Whether a food entrepreneur is launching his/her first product or 101 and first, there are certain steps necessary to make sure your product is both safe and optimized before you go to your first sales meeting. Spend 90 Minutes learning from a seasoned professional exactly what steps and costs are necessary to transform a home or food-service recipe into a commercially viable product that you can sell to distributors, retailers and consumers. This info packed session will prepare food business owners to understand how to budget both time and money to get new products to market as economically and as fast as possible.
Production Scaling Questions Answered (with John Hale) – Research shows that at least every 5-years a growing food business will need to revamp their production process to cope with growing sales volume demands. This is a daunting challenge that can leave management teams grasping for answers to the question of how to increase capacity, optimize the efficient and safe production of products and stay profitable in the process?  Speaker John Hale will share his experience working with companies both big and small to find margin and improve quality through continuous improvement as companies scale up their operations. This 90-minute session is conversational and interactive so bring your questions!
Additional Sessions include:
Food Labelling Requirements
Market Channels
Costing and Pricing
Agenda
10:00am – Welcome
10:15am – R&D Case Study/Budget Planning with Winnie Chiu
11:00am – 11:10am – Short break
11:45am – Lunch and Canadian Food Inspection Agency (CFIA) – WebEx presentation
12:30pm – Production Scaling Questions Answered with John Hale
1:20-1:30pm – Short break
2:00pm – OMAFRA presentation
2:30pm – Wrap Up
Tickets
Cost is $20.00 per person and includes a local food lunch catered by Red Door Catering.
Tickets can be purchased in advance online at Eventbrite  https://kitchen2commerce.eventbrite.ca/ or RSVP and pay at the door to Jessica Laidley at jlaidley@ssmic.com or 705-942-7927 x3034. Deadline to register is September 30th. For more information, visit http://rainalgoma.ca/kitchen2commerce/.
This event is sponsored by the Central Algoma Food for Everyone (CAFFE) Committee.