McCreights Bridge is now open for recreational use.  Recreational vehicles include pedestrian traffic, ATV's, 4-wheelers, horseback riders, bicycles and soon, depending on the weather, snowmobiles.
September 8, 2017, Original Closure Notice Follows: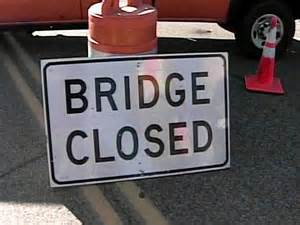 McCreights Bridge will be closed temporarily for approximately 4-6 weeks to all recreational traffic, potentially  as early as Monday, September 11th, 2017, in order for authorized rehabilitation work to be undertaken.  The Bridge is located on McCreights Road just west of its intersection with Highway 129 and is typically limited to recreational use only  such as pedestrians, ATVs, bicycles, skidoos, and horseback.  The subject portion of McCreights Road is also not winter-maintained.  The road and bridge are vital links in  the snowmobile trail system.
Residents, ratepayers, and the travelling public are advised to be aware and drive with caution as heavy equipment and the contractor's workers will be  travelling the roads in that area. The Municipality thanks the public for its patience and understanding as this required work is undertaken to improve infrastructure in Huron Shores. Please monitor huronshores.ca for updates on the status of the Bridge.