The Huron Shores Fire Department would like to advise the public of a joint recall with Health Canada, the United States Consumer Product Safety Commission and Kidde involving two models (PI2010CA and PI9010CA) of Kidde dual-sensor smoke alarms manufactured between September 10, 2016 and October 13, 2017.
The model number and date code are located on the back of the unit. T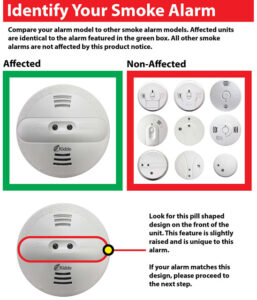 he affected smoke alarms have a pill shaped design on the front of the unit. The affected models have a yellow cap visible through the opening on the side of the alarm.
For more information on this recall, visit the Recalls & Alerts page at http://www.healthycanadians.gc.ca or the Kiddie website at http://www.kidde.com to find out if your product is affected.
If required, residents of the Municipality of Huron Shores can call the Municipal Office at (705) 843-2033 and arrange for a quick inspection.