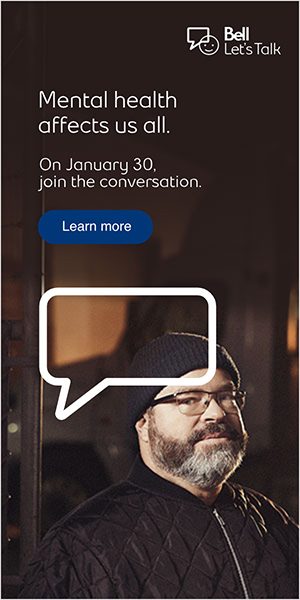 On Bell Let's Talk Day, Bell will donate more towards mental health initiatives in Canada by contributing 5¢ for every applicable text, call, tweet, social media video view and use of Bell's Facebook frame or Snapchat filter.
Introduction from the Bell Let's Talk Tool Kit:
"What is Bell Let's Talk?
Bell Let's Talk is a multi-year charitable program dedicated to the promotion and support of mental health across Canada.  Since 2010, Bell has committed to donate at least $100 million to support a wide range of mental health organizations, large and small, from coast to coast focusing on anti-stigma, care and access, workplace mental health and research.
To help you be part of the conversation, the Bell Let's Talk Toolkit provides information and resources on how you can facilitate a conversation in your community, as well as guidelines on how to have conversations with people you care about and may be concerned about.
The Bell Let's Talk Toolkit consists of two elements:
facilitator's guide and handouts to help you lead a group session
the Bell Let's Talk conversation starters to help you have a one-on-one discussion with someone you care about
Our goal is to help keep the conversation going all year long and make every day a day it is okay to talk about mental health."
Please visit the Bell Let's Talk Day webpage for further information and resources.