Huron Shores Fire Department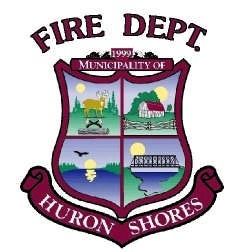 Fire Chief:  Jim Kent
Deputy Chief Station 1 (Little Rapids):  Jordan Medve
Deputy Chief Station 2 (Iron Bridge):  Scott Richards
Fire Prevention Officer:   Henk VanDelft
The Huron Shores Fire Department is staffed by a dedicated crew of volunteer firefighters, both men and women.  If you are interested in joining the team please complete an Application Form.  Completed forms may be returned to the Municipal Office.
Firefighter Cadet Program (formerly Junior Fire Fighter Program):  For interested young people aged 16-17 years.  Here is the program outline.  If you wish to apply for the program please download the Release From Liability Form and return the completed form to the Municipal Office.
Open Air Burning By-law:   By-law #14-08 requires the purchase of an annual permit at a cost of $5.00.  The permittee is to call the Municipal Office (705-843-2033) during regular office hours (Monday-Friday, 8:30 a.m. – 4:30 p.m., excluding statutory and civic holidays) to advise of his/her intention to burn.  To learn more about the Open Air Burning regulations, Fire Bans, and the penalties for infraction of the By-law, please click on the links below:
The Huron Shores Fire Department would like to remind you that spring and fall are excellent times to change the battery in your smoke alarms, and that they should be tested on a regular basis to make sure they are working properly.  Smoke detectors, Carbon Monoxide (CO) detectors and combination units are available for purchase at the Municipal Office.  For residents of the Municipality of Huron Shores, if you have any questions or require assistance with the installation of your alarms, simply call the Municipal Office (705) 843-2033 and a member of the Huron Shores Fire Department will be glad to help you out and answer any questions you may have.

Carbon Monoxide Alarms Are Required in Homes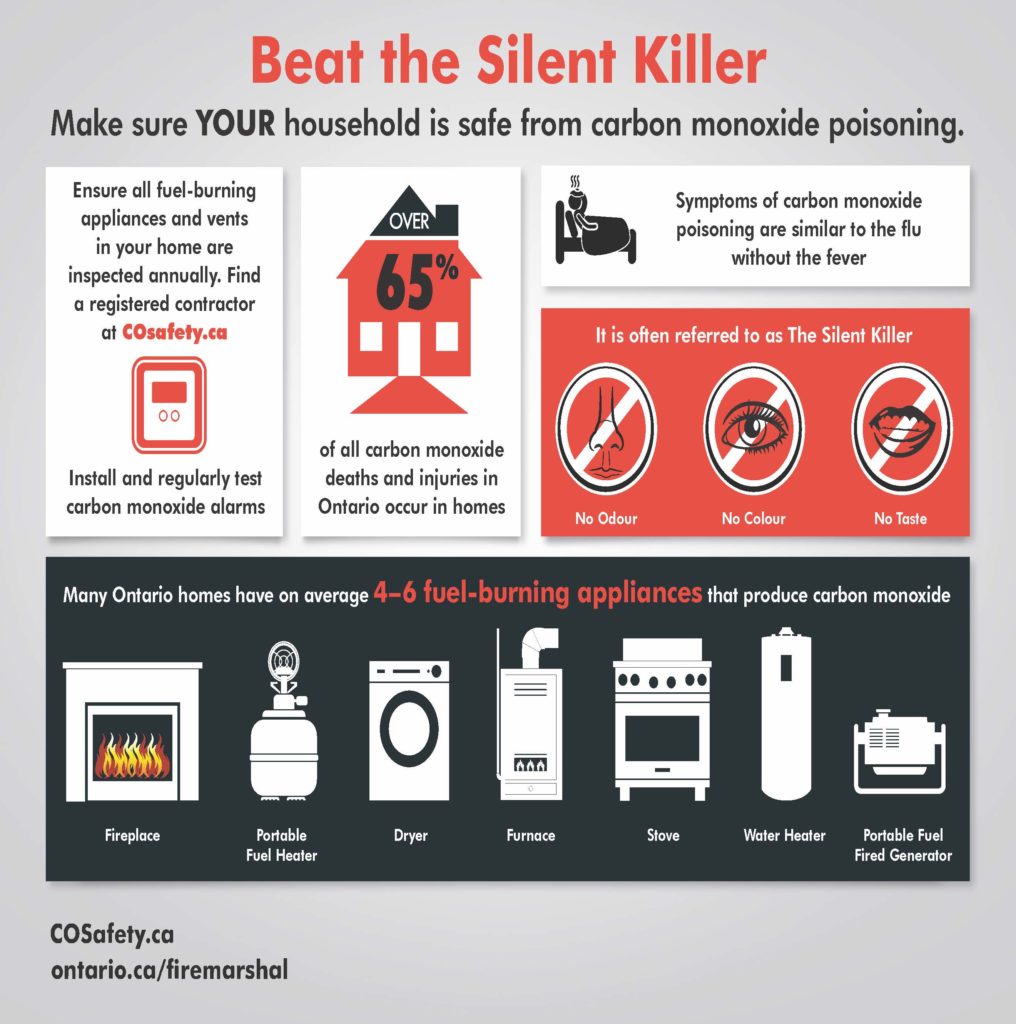 Effective October 16, 2014, it's became the law in Ontario to install carbon monoxide (CO) alarms in your home if you have a fuel-burning appliance or an attached garage.  Please read the post from retired Fire Chief Medve (posted November 3rd, 2014 and published in The North Shore Sentinel, November 5, 2014).  If your home has a fuel-burning appliance or an attached garage, you must have a working CO alarm outside all sleeping areas of the home and for added protection, install a carbon monoxide alarm on every storey of the home according to manufacturer's instructions.  Fuel-burning appliances can include furnaces, hot water heaters, gas or wood fireplaces, portable fuel-burning heaters and generators, barbeques, stoves and vehicles.
What is CO?
CO is known as the silent killer because it is an invisible, tasteless and odourless gas that can be deadly.
CO is produced when fuels such as propane, gasoline, natural gas, heating oil or wood do not burn completely in fuel-burning appliances and devices such as furnaces, gas or wood fireplaces, hot water heaters, stoves, barbeques, portable fuel-burning heaters and generators and vehicles.
Prevent CO in your home:
Ensure all fuel-burning appliances in your home are inspected annually. Visit COSafety.ca to find a registered contractor near you.
Check that all outside appliance vents are not blocked.
Never use a portable fuel-burning appliance inside (i.e. barbeques, portable heaters and generators).
Know the symptoms of CO:
Exposure to CO can cause flu-like symptoms such as headaches, nausea, dizziness, as well as confusion, drowsiness, loss of consciousness and death.
If your CO alarm sounds, and you or other occupants suffer from symptoms of CO poisoning, get everyone out of the home immediately. Then call 9-1-1 or your local emergency services number from outside the building.
If your CO alarm sounds, and no one is suffering from symptoms of CO poisoning, check to see if the battery needs replacing, or the alarm has reached its "end-of-life" before calling 9-1-1.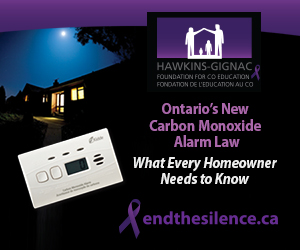 Know the sound of your CO alarm:
Your CO alarm sounds different than your smoke alarm. Test both alarms monthly and make sure everyone in your home knows the difference between the two alarm sounds.
Don't be confused by the sound of your CO alarm's low-battery warning. Follow your CO alarm manufacturer's instructions so you know the difference between the low-battery warning, the "end-of-life" warning, and the alarm alerting you to the presence of CO in your home.
For more CO safety tips, please visit ontario.ca/firemarshal and COsafety.ca or view the Ontario CO Alarm Law Homeowners Guide.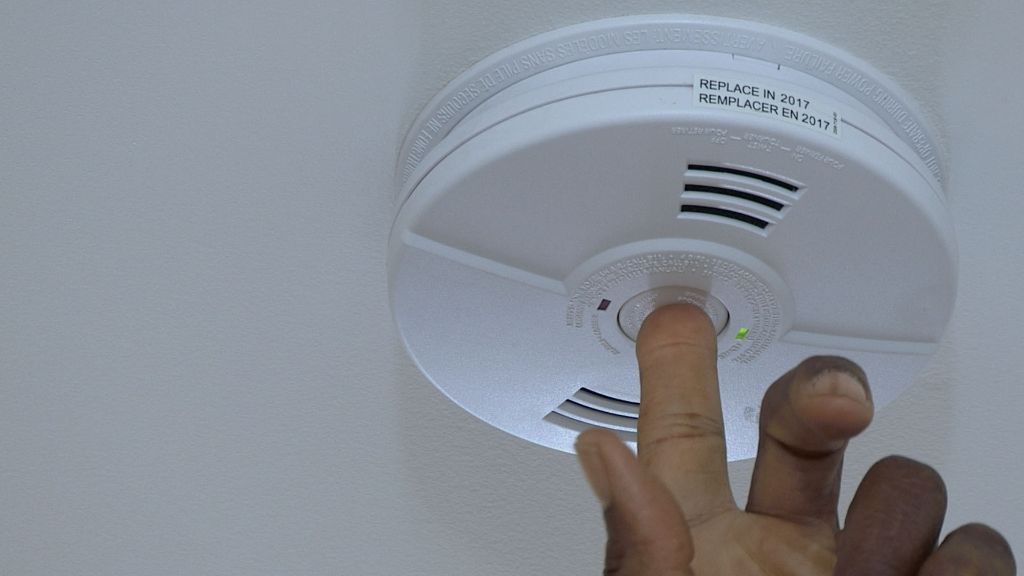 DID YOU KNOW:
Smoke alarms don't last forever.  Most manufacturers recommend you replace your smoke alarm every 10 years.
The top 6 causes of home fires are:
#1 Smoking
#2 Cooking
#3 Matches and lighters
#4 Candles
#5 Electrical
#6 Heating appliances
 Your odds of winning the lottery are 1 in 14 million.
Your odds of getting hit by lightning are 1 in 1 million
Your odds of having a serious house fire are 1 in 700.
Once a fire is started in your home, in most cases, you have less than 3 minutes to get out safely.
REVIEW YOUR FIRE ESCAPE PLAN
The Canada Safety Council recommends these steps to prepare for a family fire drill:
Draw a floor plan of your house.
Mark two ways out of each room.
Establish a meeting place outside the house.
Be sure each family member has the plan and knows the escape route.
Post your fire escape plan on the fridge or family bulletin board.
Hold a fire drill for your family once or twice a year. Vary the drills, to practice escaping from different fire sources.