WASTE DISPOSAL & RECYCLING  SITE LOCATIONS:
Ward 1:  200 Highway 129
Ward 2:  473 Cullis Road
Ward 3:  41 Red Rock Road
Ward 4:  1035 Dean Lake Road
WASTE DISPOSAL & RECYCLING SITE HOURS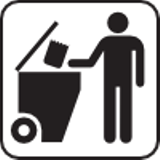 October 1 to March 31
Monday     2:00 p.m.  to 6:00 p.m.
Wednesday 2:00 p.m. to 6:00 p.m.
Saturday    9:00 a.m.  to 5:00 p.m. 
April 1 to September 30
Monday     4:00 p.m.  to 8:00 p.m.
Wednesday 4:00 p.m. to 8:00 p.m.
Saturday    9:00 a.m.  to 5:00 p.m.
NEW: The Municipality of Huron Shores has implemented a new Punch Card System in efforts to meet Ministry guidelines, achieve better control of the municipal waste and recycling program, obtain satisfactory operations to extend the life of  our waste sites, and to manage cost. Ratepayers are required to provide caretakers with Waste Site User Cards upon entry to the waste site. User cards have been in effect since October 1, 2020. The Punch Card System will limit the number of household garbage bags permitted from each property. Additional punches can be purchased from the Municipal Office. * In response to the Provincewide Shutdown announced on December 21st, and the recent Stay at Home Order, effective January 14th, 2021, the Municipality of Huron Shores has postponed the Punch Card System until further notice. You will still be required to present your Identification Card to the Caretaker during this time.*
Notice: All Waste Disposal Sites in the Municipality of Huron Shores are closed on Statutory and Civic Holidays, Family Day, Easter Monday and Remembrance Day.
This is a reminder that there are tipping fees for the dumping of mixed building debris at all Municipality of Huron Shores Waste Disposal Sites.  Please contact the Municipal Office prior to depositing these items at the Sites.  The tipping fees help offset the cost to the taxpayers to have these items removed and/or sorted at each site.  Please click here to view By-law #16-08 establishing the waste site hours of operation and the municipal tipping fees.
Also, all refrigeration appliances (freezers, fridges, dehumidifiers, etc.) must have the Freon removed and be tagged accordingly by a licensed technician prior to drop off at the Waste Disposal Site.
RECYCLING – IMPORTANT NOTICE
To maximize the life of our Waste Sites and to optimize municipal revenue via recycling, depots are located throughout the Municipality at all Waste Sites for your use. If the recycling bins are full, PLEASE do not leave your items outside the bins; take them home and return with them another day.  Items left outside the bins do not get picked up by the recycling contractor.
Accepted Items:
All rigid plastic containers signed #1 through #6
Please remove all plastic caps and lids; empty, rinse, and place items in the bin.
Milk and juice cartons and juice boxes
Please remove plastic caps, straws and dispose in the garbage; empty and flatten cartons and juice boxes and place in recycling bin.
NOT ACCEPTED:  Styrofoam, plastic bags, glass, motor oil containers or plastic pails with metal handles.
Please ensure all items are rinsed and free of food residue.
GFL has also provide information on accepted items and the Do's and Don'ts when recycling.  (Note:  the brochure refers to bins used for curbside pick-up–Huron Shores has community recycling depots).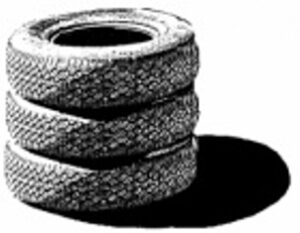 TIRE COLLECTION
Huron Shores has registered 2 Waste Sites, being Ward 1 (Thessalon Township) and Ward 3 (Iron Bridge) for the collection of tires under the Ontario Tire Stewardship Program.  Tires may be brought to these sites during regular operating hours, at no charge.
E-WASTE COLLECTION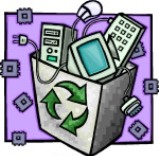 Ratepayers of Huron Shores are advised that the Municipality has also successfully registered the Ward 1 (Thessalon Township, 200 Hwy. 129) and Ward 3 (Iron Bridge, 41 Red Rock Rd.) Waste Sites under the Ontario Electronic Stewardship (OES) Program for the collection of end-of-life electronic waste i.e. TV's, computer components, stereo equipment, etc. (Here is the 1-page, printable list of accepted items, OR visit the OES website for more details) The approved collection bins are in place at the waste sites, ratepayers may now bring their E-Waste, at no charge, to these sites during regular operating hours.  The Municipality reminds you that it is the owner's responsibility to ensure that all sensitive/personal information is removed from computers, cellphones, and PDAs prior to recycling these particular items.  The units must be given to the caretaker in order to be placed in the bins.  For more information regarding E-Waste recycling please visit the website:  recycleyourelectronics.ca.
RECYCLE YOUR HOUSEHOLD BATTERIES: Residents and ratepayers of Huron Shores may recycle their household batteries as well.  Single use, cell phone and computer batteries are all accepted.  Battery recycling containers have been placed at the following locations:
All Municipal Waste Disposal Sites
Little Rapids General Store, 59 Little Rapids Rd.
Ward 1 Municipal Garage, 75 Little Rapids Rd.
Municipal Office, 7 Bridge St., Iron Bridge
Village General Store, 22274 Hwy. 17, Iron Bridge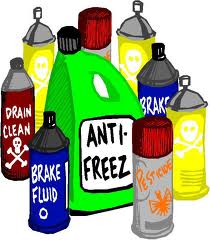 HOUSEHOLD HAZARDOUS WASTE:
Residents and Ratepayers of Huron Shores may drop off Household Hazardous Waste at the Sault Ste. Marie Household Hazardous Waste Depot free of charge.  The Hazardous Waste Depot is located at the City Landfill at 402 Fifth Line East.  The Hazardous Waste Depot Hours of Operation are: Tuesday to Saturday – 8:30 a.m. to 4:30 p.m. Starting April 10, 2021
For more information please visit Sault Ste. Marie Hazardous Waste Depot Page
Note:  During the closed season, please keep your household hazardous waste items for proper disposal at one of the City's event days scheduled periodically through the off-season.  Please click here for a list of acceptable and unacceptable items.
In addition, the Municipality of Huron Shores has participated in the Town of Blind River's Household Hazardous Waste Day held every second year during the month of July. 2020's Household Hazardous Waste Day   was Saturday, July 25th, 2020, from 9:00 a.m. to 1:00 p.m. at the Blind River Travel Information Centre Parking Lot, located at 243 Causley Street, next to the Timber Village Museum. Next Hazardous Waste Day will be in 2022. 
2015 MOE Waste Disposal Site Inspection Reports
The Ministry of the Environment and Climate Change recently completed its 2015 Solid Non-Hazardous Waste Disposal Site Inspection Reports for the 4 municipal waste sites.  The reports were received by Council at the August 12th, 2015 Regular Meeting.  Please click on the links below to view the individual reports.