INFORMATION CENTRE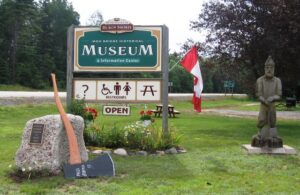 MUSEUM HIGHLIGHTS
1 James Street
P.O. Box 460
Iron Bridge, ON.
P0R 1H0
Museum Hours:
Open June:  Thursday-Monday
Open Daily July (including Canada Day, July 1) & August,  9:00 a.m. – 5:00 p.m.
September Hours:  Thursday-Monday,  9:00 a.m. – 5:00 p.m. (Closed for Season:   Sunday, September 22/19)
Public Washrooms:  Open Daily from 9:00 a.m. – 7:00 p.m. for entire season from Victoria Day Weekend.
Admissions: By donation – Donations help us to maintain and expand our facilities
Special Events:
2019 Events To Be Determined
Farmers' Market
Located in the Gazebo every Saturday from mid-June until the end of September – Rain or Shine
Our friendly and knowledgeable attendants will be happy to assist you with travelling inquiries.
Maps and pamphlets are available
Beverages available
SERVICES:
Supervised Access to Township Cemetery Records in log house
Photocopies available in log house
Local souvenirs
Books and prints by local authors and artists
Picnic area
LOG HOUSE:
Built in Sowerby by John and Sandy McDougall, this log home dates back to 1879. It was relocated to the Museum site in 1974. It contains many artifacts used by farmers and loggers in the area. The Tourist Information Centre, souvenirs and beverages are available in the log home. Come and see the ambulance bed used by Tulloch's Taxi to transport sick or injured residents, and the Ingram family's fireless stove. There is a wide range of artifacts here, including local wedding gowns, WWII military uniforms, 1950's era baseball uniforms, 25 years of Bind River District High School graduation programs and graduate names, items from the Inkster family farm in Dean Lake, and much more.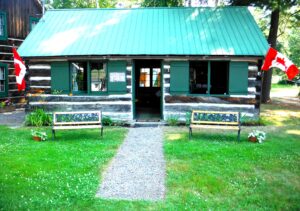 TULLOCH/CARLYLE HOUSE:
Originally built in 1890, the timber home of Lawrence and Andrena Tulloch/Carlyle was relocated to the Museum site from Bright Township. The home depicts the interior of a local farm home and contains artifacts commonly in use until 1939. Come see the homemade quilt quilted by Mrs. Charles (Mary) Rosenburg c. 1903, the Tait Family Bible from 1886, the Bell family table built over a hundred years ago with square nails, a Women's Institute of Iron Bridge fundraising quilt embroidered with many early residents' names, a late 19th century hair wreath made by Mrs. Annie (Henry) Eaket, and many more early 20th century artifacts used in every room of the early residents' homes.