Thessalon Township Community Centre, 4 Little Rapids Road
This facility, the former Little Rapids school house, is available for community events, dances, dinners or private parties and is located next to the Heritage Park Museum.  Please contact the municipal office to book your event.  Keys to the hall may be picked up at the municipal office one day prior to your booking but must be returned the following business day.  View the Rental Agreement.
Little Rapids Gazebo and Ballpark, 34 Little Rapids Road
This covered gazebo has a canteen kitchen, washrooms, and in addition to picnic tables,  banquet-style tables and chairs to seat 100-plus persons.  The gazebo and ballpark are ideal for hosting family/group picnics or reunions, weddings and receptions.  The fees and regulations are the same as for the Thessalon Township Community Centre.  The gazebo is available from June to mid-September only:  please contact the municipal office for schedule availability. View Rental Agreement.
Sowerby Hall, 1410 Basswood Lake Road
This 100-plus year-old building is not only a community hall but was also, for a period of time, prior to amalgamation, the municipal office for the Township of Day and Bright Additional (now Ward 2 of Huron Shores).  The hall is a popular venue for quilting groups, painting classes and weekly square dances throughout the year.  View the Rental Agreement.
To book a date for your event, contact the municipal office.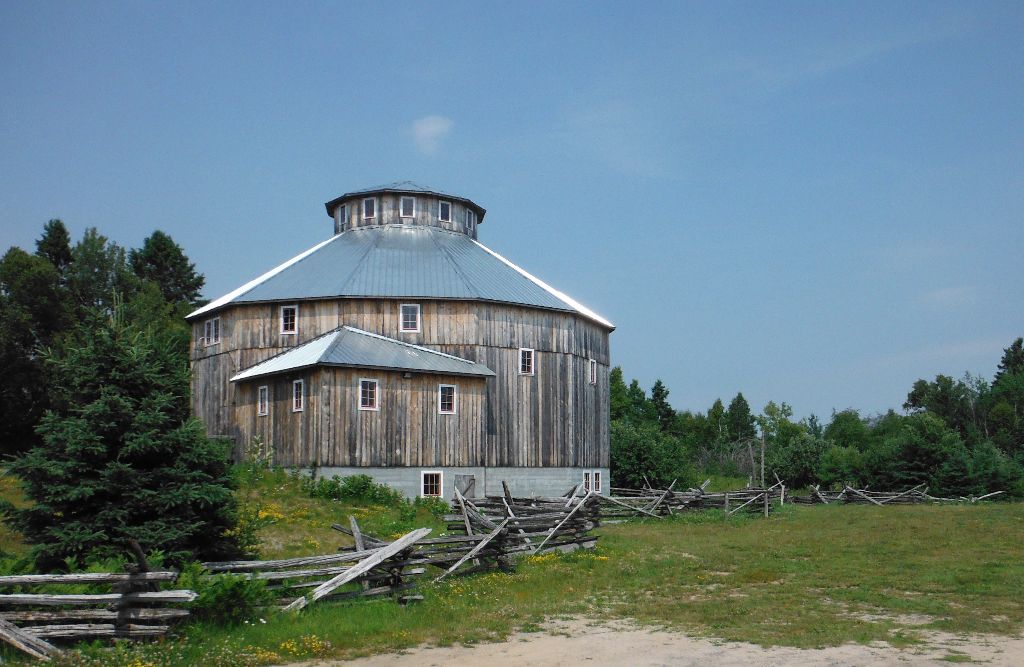 Historic Cordukes/Weber 12-Sided Barn, adjacent to Sowerby Hall
This renovated and historic structure is available for private and public functions on a seasonal basis. Contact the municipal office (705) 843-2033 for availability. View Rental Agreement.  It also hosts a Farmers' Market on Saturdays, June to September, 9:00 a.m. – 2:00 p.m.  For details of the historic significance, and the relocation and renovation of this barn, please visit the Historic 12-sided Barn page on this website.
This slideshow requires JavaScript.
Iron Bridge Recreation Centre (Arena), 1 Chiblow Lake Road, Iron Bridge
The Iron Bridge Recreation Centre has a full-service kitchen that allows for catered functions such as wedding receptions, dinner/dances or similar private group events.  It is the main venue for the Annual Agricultural Society Fall Fair held on the Saturday of Labour Day weekend, as well as flea markets, quilt and craft shows and other large-scale community celebrations. Please click here to view copies of the Rental Agreement  For additional information contact the municipal office.
Huron Shores Ward 4 Recreation Centre, 23802 Hwy. 17, 1/2 km east of Hwy. 17 intersection and Dean Lake Rd.
This newly renovated gym is located in the former Thompson Township Community Hall/Municipal Office.  Gym membership fees are $10.00/month.  Please contact Bonnie at (705) 843-2168 or the Municipal Office (705-843-2033) for membership details.
List of gym equipment
Please view the gallery below for samples of the gym equipment available for use at the Recreation Centre.