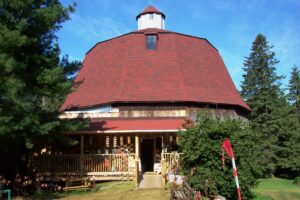 The Round Barn Gift Shop 
131 Brownlee Road (at Maple Ridge)
Thessalon, ON   P0R 1L0
Telephone/Fax – 705-842-3341
Search 'Round Barn' on Facebook
Email – dogadayinn@live.ca
The Dog A  Day Inn Kennel is located at 260 Round Barn Rd., just around the corner from the Gift Shop.
Contact – Mark and Heather West
Huron Shores is home to 2 of the 3 12-Sided Barns known to exist in Canada.  Please click here to learn more about the Municipality's unique architectural heritage.