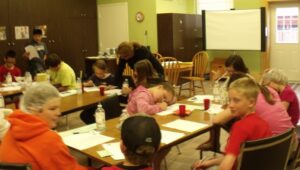 Recently the Huron Shores Fire Department co-sponsored a "What's Cooking for Teens" workshop at the Blind River Best Start Resource Centre.  "What's Cooking" is a fire prevention program that teaches young people cooking safety, how to identify potential kitchen hazards as well as the importance of fire escape plans and smoke alarms. The 18 participants were able to put their new skills to practical use by doing some actual cooking.  The program was jointly sponsored by the Huron Shores and Blind River Fire Departments,  Blind River Best Start and Blind River Youth Council.  Featured in the above photo is Kathy Mroz, a Huron Shores Firefighter and Best Start employee.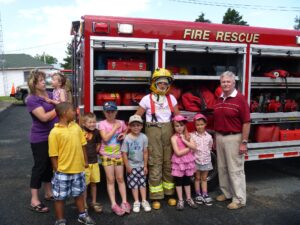 Local children, also from the Blind River Best Start, paid a visit to Huron Shores Fire Department Station #2 in Iron Bridge.  The visit included a tour of the station, equipment and vehicle demonstrations, and hot dogs for everyone. Featured in the photo (right) with some of the children are Firefighter Kathy Mroz and Mayor Gil Reeves.
The Fire Department would like to remind everyone of the importance of maintaining your household smoke and carbon monoxide (CO) detectors.   Smoke detectors, CO detectors and combination units are currently available for purchase at the Municipal Office.  Please see the previous post for pricing information.