---
---
*** 2022 Declaration of Election Results CLICK HERE ***
---
---
WHEN ARE LOCAL ELECTIONS HELD?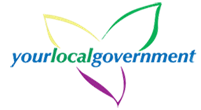 The last municipal election was held on October 24, 2022. Where the polling day falls on a holiday, polling day shall be the next succeeding day that is not a holiday. Keep your voter information up-to-date by visiting voterlookup.ca.
Elections for municipal government are held every four years on the fourth Monday of October.
Think about all the services your municipal government is responsible for providing. Roads. Local enforcement. Culverts and drainage. Community Services. Parks. Recreation. Learn who in your community best represents your position on the issues that mean the most to you and your family.
For additional information check out the Voters Assistance Guide and Municipal Elections 2022 FAQ.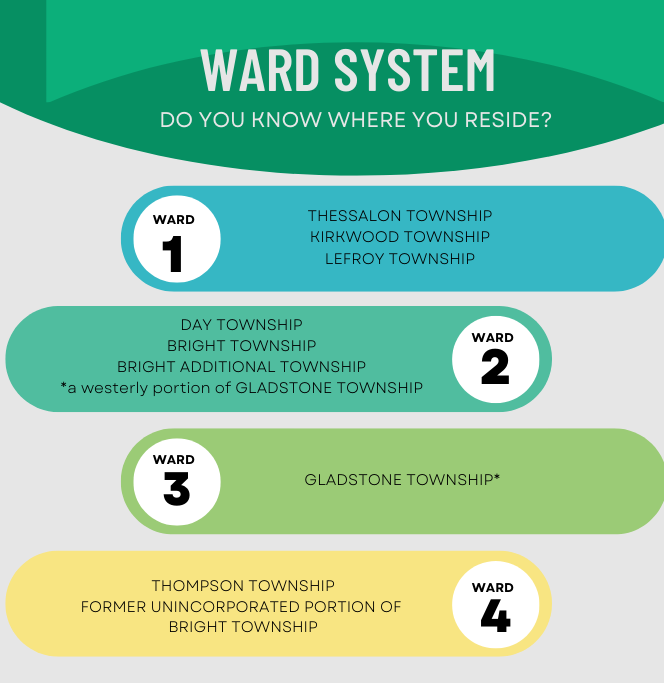 ---
Electronic Voting
The 2022 election will be held electronically. Videos are provided below for information and direction respecting electronic voting.
---
Watch for your VOTER INSTRUCTION LETTER in the mail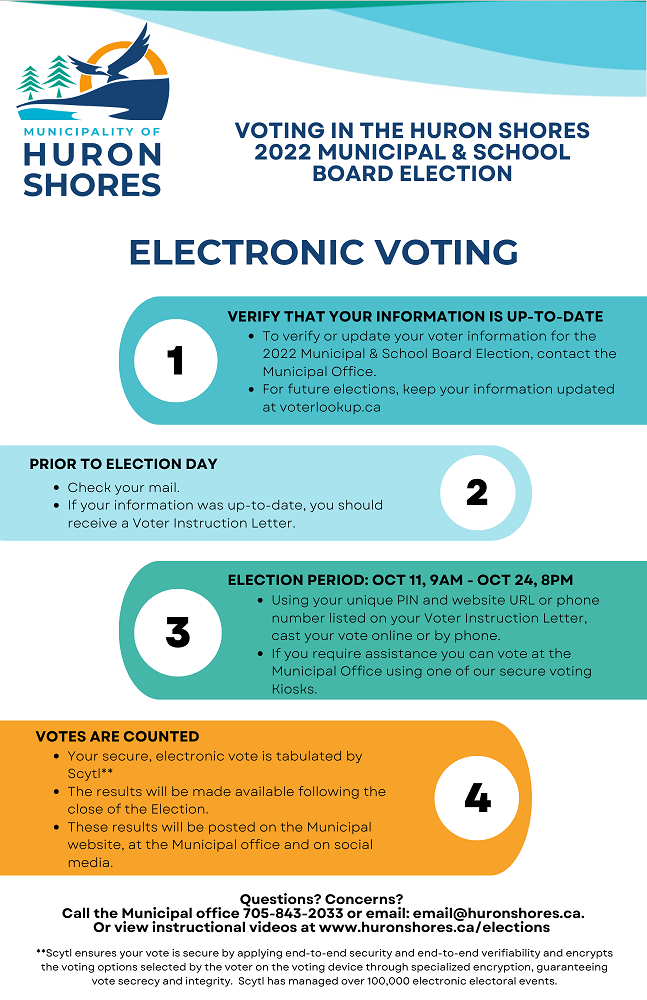 ---
Certified Candidates
As of August 22, 2022, the following is a list of certified candidates who have filed all necessary papers, declarations, and fees to run for office in the upcoming 2022 Municipal Election.
MAYOR
BILODEAU, Georges
SEABROOK, Matthew
WARD 1
WALSH, Darlene – Councillor
MULLIGAN, Roger – Councillor
WARD 1 & 2
MACKINNON, Blair – Councillor
RATZ, David – Councillor
WARD 2
FALK, Peter – Councillor
ELDNER, Eloise (Boe) – Councillor
WARD 3
WEDGWOOD, Dale – Councillor
CURRIE, Tim – Councillor
Ward 3 & 4 (Acclaimed)
ARMSTRONG, Jane – Councillor
Ward 4 (Acclaimed)
PIRRIE, Jock – Councillor Ward 4
List of official candidates is available in an alternative format.
---
Municipal Council
A person who is qualified to be a voter in the Municipality of Huron Shores for the 2022 Municipal Election is also eligible to be a candidate for office. That means, on the day that you submit your Nomination Form, you must be qualified to hold that office. Candidates for the offices of Mayor or Councillor must meet the same criteria as eligible voters or electors.
You must be:
A resident of the Municipality of Huron Shores, or an owner or tenant of land in the Municipality of Huron Shores, or the spouse or same sex partner of such an owner or tenant;
A Canadian citizen;
At least 18 years old;
Not prohibited from voting by law In order to be considered for declaration as a legally qualified municipal candidate, you must file a Nomination Form with the Clerk of the Municipality of Huron Shores.
Nomination forms were filed by the Nomination Day of Friday, August 19th, 2022. A nomination form is filed with the Clerk before spending or raising any money for campaign activities. The filing fee for Councillor is $100.00, the fee for the office of Head of Council is $200.00. The following three (3) forms are submitted when filing your nomination:
Nomination Procedures
Municipal Nomination Paper – Form 1
EL18(A) – Declaration of Qualifications 2022 – Municipal Council
EL52 – Consent to Release Personal Information
Holding office as an elected official in a municipal government can be rewarding and challenging. It requires a real commitment of time over a period of four (4) years. The Municipal Elections Act sets out, in detail, the requirements to be met by candidates for office. This Nomination Procedures document has been prepared as a summarized version of the nomination requirements for your convenience. It is in no way to be construed as legal advice and/or a replacement for the legislation itself. This document is only a guide to certain portions of the legislation that have general relevance and does not recite all parts of the legislation. Before you file your nomination papers, we strongly urge you to obtain your own updated copy of the Municipal Elections Act.
Once your nomination paper is filed with the Clerk, you will be given a Candidates Package that will provide information and forms that you will need during the Campaign period and thereafter."
Any questions should be directed to:
Natashia Roberts, CAO/Clerk
Municipality of Huron Shores
7 Bridge Street Iron Bridge, ON P0R 1H)
705-843-2033
natashia@huronshores.ca
---