Adventure and Discovery Awaits!
The Huron Shores GeoTour stretches across the Municipality and gives you a real feel for the community and our unique features. Special geocaches have been hidden at over 20 sites in Huron Shores all with a connection to our community.
From June 25, 2022 until June 2023, take part in the Huron Shores GeoTour! When you discover one of our "special" geocaches, record the site, and GC code in the passport available for download. Bring your completed passport with all 23 codes to our Municipal Office for a souvenir!
Geocaching can be done in 4 easy steps!
1. Open the app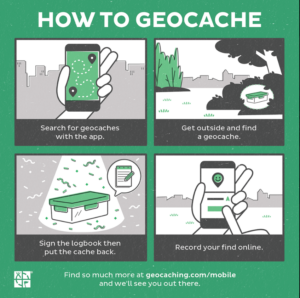 Download and open the Geocaching® app to see geocaches near you. Then, select a geocache to find!
2. Navigate to the geocache
Once you select a cache, go outside, and use the app to navigate to it. And don't forget to bring a pen so you can sign the logbook inside the geocache.
3. Look for the geocache
Once you navigate to the location, look at the recent activity and the hint for clues. Geocaches come in all shapes and sizes!
4. Find and log the geocache
Sign your username in the geocache's logbook and place the geocache back where you found it. Log your find in the app or on Geocaching.com to see your find count increase!
Good luck and happy caching!
Municipality of Huron Shores