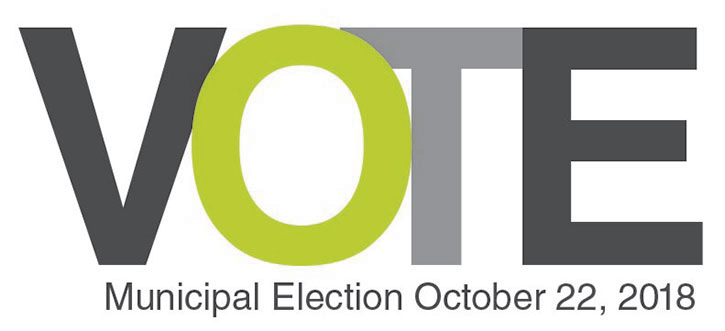 The next Election Day for all municipalities in the Province of Ontario is Monday, October 22, 2018.  The Municipality of  Huron Shores is governed by a 9-member Council (Mayor + 8 Councillors, 2 representatives per Ward).  An Advanced Poll will be held Saturday, October 13, 2018, from 10:00 a.m. – 5:00 p.m., the location (s) yet to be determined.  Please click here to view a map of the wards.

Nomination forms may be filed by candidates anytime, Monday to Friday, between 8:30 a.m. and 4:30 p.m. at the Municipal Office.  On Nomination Day, Friday, July 27, 2018, nominations may only be filed from 9;00 a.m. to 2:00 p.m.  A nomination form must be filed with the Clerk/Administrator before spending or raising any money for campaign activities.  The filing fee for Councillor is $100.00, the fee for the office of Head of Council is $200.00. In addition, the following two (2) forms must be submitted with the Nomination papers:
As of July 9, 2018, the following is an unofficial list of candidates who have submitted a nomination paper to run for office in the upcoming 2018 Municipal Election. The list of candidates seeking election will become official on Monday, July 30, 2018.
| | | |
| --- | --- | --- |
| NAME OF CANDIDATE | OFFICE | QUALIFYING ADDRESS |
| MACKINNON Blair | Councillor, Ward 1 | SW¼ Section 12, Lefroy Twp. |
| JONES-SCISSONS Nancy | Councillor, Ward 2 | 1081A, Basswood Lake Road |
| KIRBY Debbie | Councillor, Ward 2 | 1505 Dayton Road |
| BILODEAU Georges | Councillor, Ward 4 | 448 Lakeview Road |
Detailed guidance for potential candidates is available in the 2018 Candidates Guide. Additional information, if required, is also available from Deborah Tonelli, Clerk/Administrator, Municipality of Huron Shores. Telephone: 705-843-2033 or E-mail: email@huronshores.ca
The Association of Municipalities of Ontario (AMO) is offering an on-line course for potential candidates entitled "So You Want to Run for Council?" at a cost of $66.37.  Please visit the AMO website at www.amo.on.ca, for more information.

Voter information is available from the Ministry of Municipal Affairs and Housing in its 2018 Voters Guide.  Voterlookup.ca:  In addition, the Municipal Property Assessment Corporation (MPAC) has launched voterlookup.ca, a website which allows eligible electors to confirm or update their information for the municipal and school board elections.