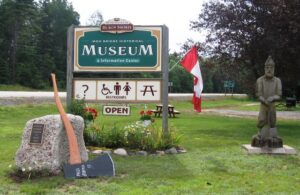 Iron Bridge Historical Museum
1 James Street, Iron Bridge, ON
The museum was first established in 1974. Hours of Operation: mid-June to late September, Daily 9:00 a.m. – 5:00 p.m.; Weekly Farmers' Markets are held on Saturdays from 9:00 a.m. – 2:00 p.m., from early July to late September. Facilities include accessible public washrooms, picnic tables and the covered gazebo provides a shady spot for a picnic lunch and houses the Saturday Farmers' Market. A free children's arts program, supplies included, is also offered periodically throughout the summer months. Check with the Municipal Office for dates.  Various art exhibits and special historical displays are held during the summer months as well.
For more information re:  Museums in Huron Shores please visit the Museums page of this site.