As of April 8, 2021 at 12:01 a.m., a Stay-At-Home Order is in effect for all of Ontario.
This means you must stay at home. You should only go out for necessities, such as:
Going to the grocery store or pharmacy
Accessing health care services (including getting vaccinated)
Outdoor exercise or walking pets in your community
Going to work that cannot be done remotely
Attending school or a post-secondary institution
Businesses must ensure that all employees work from home if they can
Do not travel outside your region or the province unless absolutely necessary
Read the full list of reasons you can go out in the regulation.
For more information regarding the Colour-code Framework, Provincial Restrictions and Return to Framework Dates, please visit  COVID-19 Public Health Advice at ontario.ca.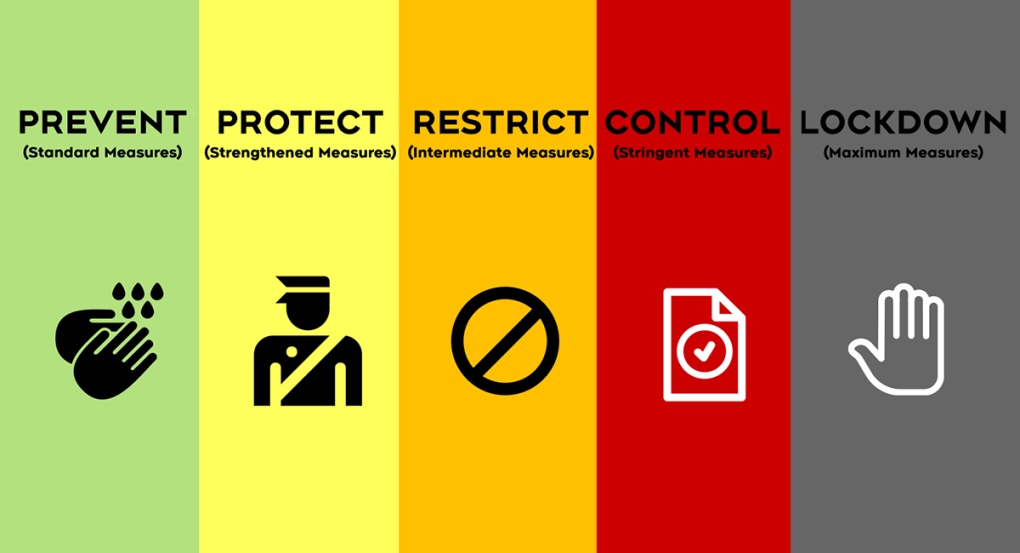 At this time the Restrictions are as followed:
Response Framework (colour-coded zones) is paused. 
Gatherings and close contact
All events and social gatherings:
Indoors: not allowed, except with members of your household (or one other household if you live alone)
Outside: 5 people
Religious, wedding and funeral services:
Indoors: 15% capacity of the room
Outside: the number of people that can keep two metres physical distance from each other
This does not apply to receptions, which are not permitted indoors and are limited to five people outdoors
Rules for all businesses
All open businesses must:
Screen employees (you may use the COVID-19covid 19 screening tool)
Post signs at all entrances informing people how to screen themselves for COVID-19covid 19 before entering (see COVID-19covid 19 Signage Questions for Businesses and Organizations)
Limit capacity so guests can stay at least 2 metres apart
Make sure anyone indoors wears a mask or face covering, including workers who have to come within 2 metres of anyone else (with some exceptions)
Make sure workers use personal protective equipment (PPE) that protects their eyes, nose and mouth when they have to come within 2 metres of anyone who is not wearing a mask or face covering or separated by plexiglass
Clean and disinfect often-touched surfaces, such as equipment, washrooms, locker rooms, change rooms and showers frequently
Manage line ups to make sure customers are at least two metres apart and wearing face coverings or masks
Create a safety plan, post it in a place where workers and patrons will see it and have it available upon request